Welcome to "This Week in James Bond"! This is the first installment of a new feature about all the James Bond news and rumours you may have missed over the past week.
Goldfinger to premiere at Berlin Film Festival
The official James Bond website reported on January 16 that a newly restored 4K version of the 1964 film Goldfinger, starring Sean Connery and Gert Frobe, will premiere at the 65th annual Berlin Film Festival. The festival is scheduled to run from 5 February to 15 February. (Source: 007.com)
Pierce Brosnan named as new Speake-Marin spokesperson
Swiss boutique watchmaker Speake-Marin announced on January 14 the name of their newest celebrity brand ambassador: Pierce Brosnan. This comes as no surprise to anybody who is a follower of Brosnan on Instagram as the actor has posted many photographs of his Speake-Marin watches to social media in the past. The collaboration between Brosnan and the company apparently began while Brosnan was filming the upcoming thriller Survivor, also starring Milla Jovovich; his character is a watchmaker and Speake-Marin acted as a consultant on set. (Source: Forbes)
George Lazenby to play vampire hunter in new Dracula film
Everybody's favourite "other fellow" has been cast as a vampire hunter named Professor Norris in the upcoming direct-to-streaming-video film Dracula: Killer on the Catwalk. The announcement came from producer John Peters on January 15; filming will take place in the county of Shropshire. (Source: ShropshireStar.com)
Anthology of original James Bond short stories to be published in Canada
The literary creations of Ian Fleming entered the public domain in Canada and several other countries this year. Taking advantage of this new development, independent publisher ChiZine Publications (based in Toronto) announced on January 19 that they would release an anthology titled "Licence Expired: The Unauthorized James Bond", featuring short stories written by authors such as Tony Burgess, Laird Barron, and Ian Rogers. Nothing from the James Bond films or the James Bond novels not written by Ian Fleming will be referenced, since they have not yet entered the public domain. (Source: David Nickle)
Finally, we may have our first look at Madeleine Swann – or at least Madeleine Swann's hair. Reporters Without Borders posted this photo of Lea Seydoux to Twitter, in which she wears a shirt showing her support for the French magazine Charlie Hebdo.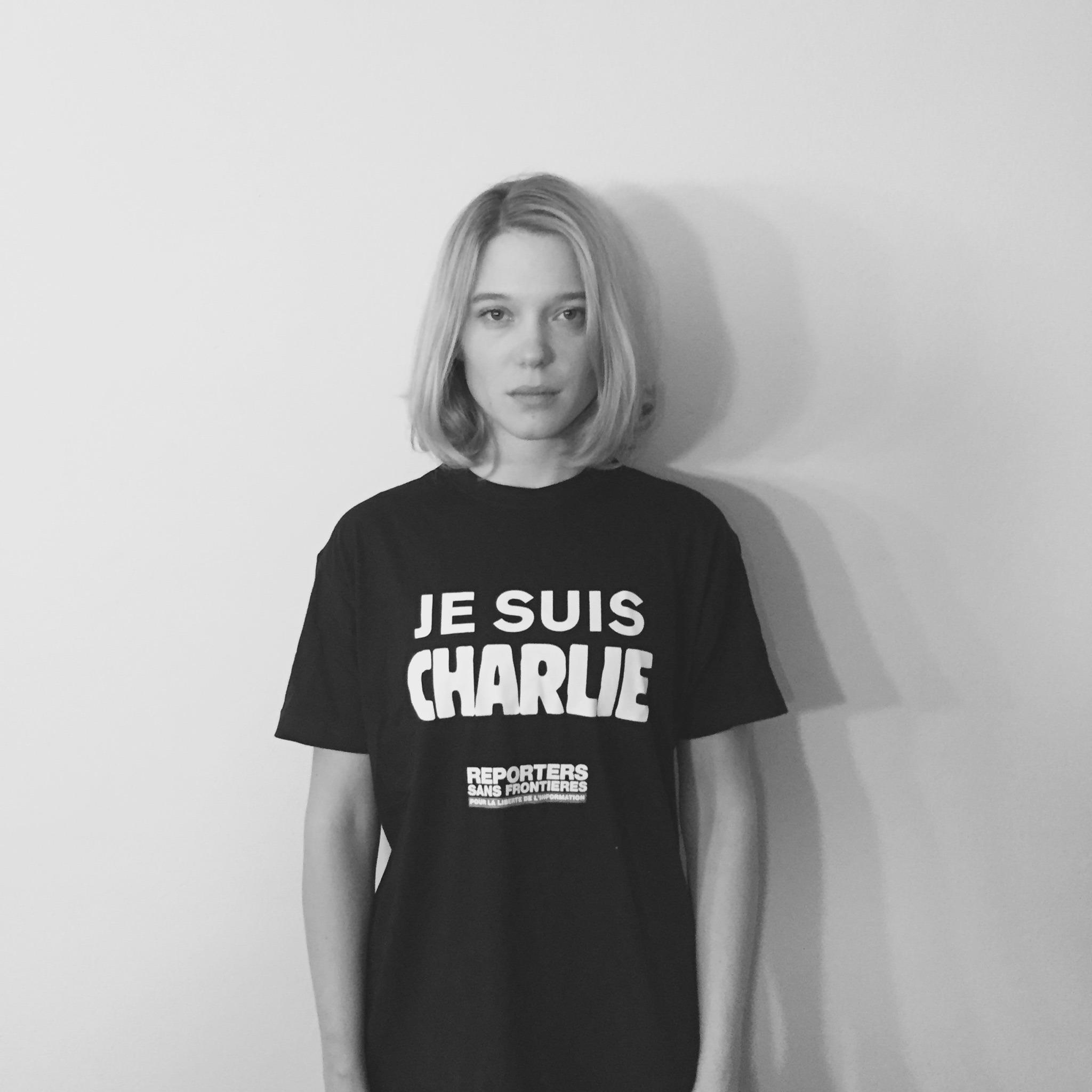 That's all for "This Week in James Bond"! Feedback (via either the comments section below or Facebook/Twitter) would be greatly appreciated, as this is still a brand-new feature to the website. As always, don't forget to tune in to the podcast and join the conversation on social media. JBR is also competing in the 10th annual People's Podcast Awards; you can vote here.
Subscribe on iTunes: http://toms70.sg-host.com/itunes
Like us on Facebook: http://www.facebook.com/jamesbondradio
Follow us on Twitter: http://twitter.com/jamesbondradio